Think differently, act differently! This is the core message of Hireland, an initiative to get Ireland working again – one job at a time. The aim is to get employers to change their perception of hiring someone from being an overhead to being a resource for their company.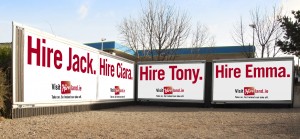 Hireland was launched in January 2012 and has already received more than 5,000 job pledges. More than 2,000 people have already started back to work making this movement the most significant jobs initiative Ireland has ever seen.
In addition, Hireland has received funding from the Arthur Guinness Fund for social entrepreneurs.
Lucy Masterson
Lucy Masterson is a renowned marketing consultant who gave up her job to ensure that many other Irish people find employment.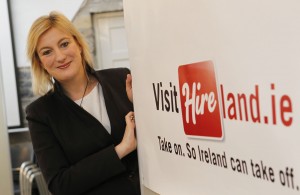 She founded Hireland at the kitchen table with Michael Killeen of Dialogue Marketing. It's grown exponentially since then and she's just back from the United States, where she inspired many groups with the innovation and success of Hireland. In this exclusive interview with Fiona Ashe of Flasheforward, Lucy talks about:
– her plans for the future of Hireland,
– the BBC's interest in the initiative and its potential to be rolled out internationally,
– her involvement with Cindy Gallop and If We Ran The World …and she answers the question "Are you a little bit crazy?"
We are very grateful to Lucy for such an insightful and personal interview. Please support Hireland in every way you can, for example by pledging to hire someone this year or by telling everyone you know about it. You never know who might be in a position to hire!