Facebook has unveiled its new News Feed design, which is cleaner, more visual and filters content more effectively than before.
Chief Executive Mark Zuckerberg identified Facebook's goals for the new News Feed as richer story design, choice of different feeds, and a consistent look on mobile, tablet or web.
"What we're trying to do is give everyone in the world the best personalized newspaper we can," Zuckerberg said. "The best personalized newspaper should be intricate, rich, and engaging."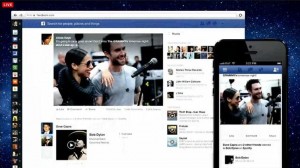 Vibrant Visuals
Facebook is emphasizing visual content like photos and videos in the feed, which provides brands with the opportunity to get creative.  The size of images have been enlarged, making the quality of visual media more important than ever before.  Because images will be featured bigger, Facebook recommends higher-resolution images, ideally 600 x 600 pixels (or a minimum of 200 x 200).  Also, once a Facebook user has Liked your Page, the image that will appear in their News Feed is your cover photo, so ensure it tells your brand story and is eye-catching.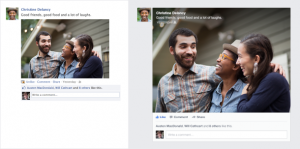 Feeds
Because we are all in an age of information overload, filtration is key to presenting consumers with the information that's most relevant to them.  Facebook's redesigned News Feed includes additional feeds which facilitate better filtration and categorisation of content:
All Friends – a feed that shows you everything your friends are sharing
Photos – a feed with nothing but photos from your friends and the Pages you like
Music – a feed with posts about the music you listen to
Following – a feed with the latest news from the Pages you like and the people you follow
This could be detrimental to brands if Facebook users spend more time on Friends feed but could be beneficial if they regularly visit their Following feed, which displays content from brands they've opted in to see.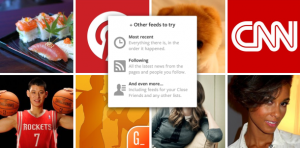 Video Content
As he unveiled the News Feed redesign, Zuckerberg alluded to the fact that there will be more video in the News Feed, so there's an opportunity for brands to display video.  "So, historically, advertisers want really rich things like big pictures or videos and we haven't provided those things historically," he said, pointing out that news feed ads attract a higher click-through rate than sponsored ads on the right-hand side of the site.  This gives brands an increased opportunity to promote themselves effectively through video.
This video gives an insight into the thinking behind the redesigned News Feed:
The changes are being rolled out slowly and it will take some time to understand the full effect it will have on the Pages of brands and publishers, but it certainly emphasizes the need for businesses to post more high quality visual content i.e. photos and videos.
How do you think the new changes will affect your brand?
(All images courtesy of Facebook)